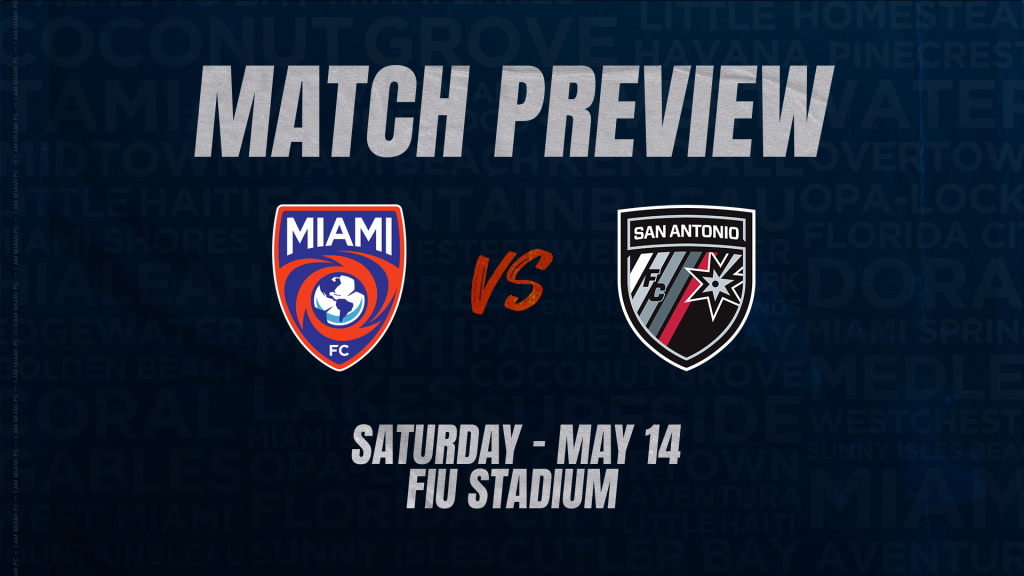 Vs. San Antonio FC at FIU Stadium
Saturday, May 14
Kickoff: 7 p.m. ET
Watch: ESPN+
Tickets: Click Here
Miami, Fla. (Friday, May 13) – The Miami Football Club is back in the 305 and ready to face San Antonio FC at FIU Stadium on Saturday, May 14, kicking off at 7 p.m. ET.
The Orange and Blue arrive at Miami after picking up four points in three consecutive away games at Birmingham, Memphis and Phoenix.
Four points from three away matches
Miami FC kicked off its three-game away run in Phoenix on April 23. Right-winger Joshua Pérez gave Miami FC an early lead in the 27th-minute. However, Phoenix Rising rallied back for a 2-1 win at Wild Horse Pass.
MFC headed to the Birthplace of Rock 'n Roll next to face Memphis 901 FC at AutoZone Park on April 30. Two former Memphis 901 players in Kyle Murphy and Pierre da Silva scored against their old club, securing three points on the road for Miami.
Lastly, Miami FC went toe-to-toe against Birmingham Legion FC. Miami secured its first-ever point against Legion FC after a goalless stalemate at Protective Stadium.
"I think it has been a tough few games on the road," said Pérez. "It's good to be back home and in front of our fans again. I think it's going to be an exciting game – against San Antonio FC."
The South Florida side sits in sixth place in the Eastern Conference with 14 points after the three away games.
Pierre da Silva looks to make his 100th USL Championship appearance
Da Silva is a game away from notching his 100th USL Championship appearance.
The 23-year-old has been an integral member of head coach Anthony pulis' game plan week-in and week-out. Da Silva has three goal contributions – 2 goals and 1 assist – after seven league games this season. Moreover, he leads the team in game-winning goals (2).
About San Antonio FC
San Antonio FC sits in second place in the Western Conference, three points behind leaders Colorado Springs Switchbacks. Despite its good record, the Texas side arrives at Miami after consecutive away losses against Phoenix Rising and Major league Soccer's Houston Dynamo.
Goalkeeper Jordan Farr earned the USL Championship April Player of the Month award after a league-high 18 saves and four clean sheets in five games. Other highlights in San Antonio's roster are Forward Elliot Collier, who leads the team in goals with four this season, and defender Connor Maloney, who has the most assists with three.
Head coach Alen Marcina is no stranger to soccer in South Florida. The Canadian international played college ball at Barry University in the late 90s and early 2000s and returned to SoFlo to play professionally in 2009 with the Ft. Lauderdale Strikers. The 42-year-old has seen success as a young manager, leading San Antonio FC to back-to-back playoff appearances.
"We are well aware of the threats that they – San Antonio FC – pose and we certainly have to be at our best," said Pulis ahead of the fixture. "At home we're confident. We feel like we can give anybody a good game and when we're on top of our game, we feel like we can cause any team problems."
Community Heroes Night
Putting the game aside, Miami FC will celebrate the heroes who keep our community safe during the match. Community Heroes Night will cap off with a post-game fireworks show.
Up Next for Miami FC
Midweek action awaits, as Miami FC is set to take on Detroit City at FIU Stadium on Wednesday at 7 p.m. ET.
Detroit is enjoying a successful first year in the league. Le Rouge sits in third place in the Eastern Conference, three points above Miami FC.
Miami fútbol fans can purchase tickets here.