FIU STADIUM
A-Z Fan Guide
FIU Stadium attracts thousands of visitors a year, from all over the nation and around the globe. This area of our website provides some basic information about our stadium, including guidelines to review before visiting. If you are looking for any information on the stadium which you cannot find on this site, do not hesitate to contact us at 844-MIAMI FC.
ACCESSIBLE SEATING AND SERVICES
Accessible Parking
Accessible Parking is available in the Lot 7 on the Westside of FIU Stadium on a first come, first served basis. A hanging placard or accessible license plate is required to gain access this accessible parking lot.
Guests seeking assistance from the Lot 7 to the stadium should alert a parking attendant for assistance.
Accessible Seating
Accessible seating tickets are available for purchase via phone 844-MIAMI FC, online at www.miamifc.com/tickets, and during any match day at the Box Office Windows located at the FIU Stadium.
Braille and Tactile Signs
Braille and Tactile signs are located at all restroom entrances and elevators.
Restrooms/Family Restrooms
Family restrooms and wheelchair accessible restrooms are located near Gate 3 on the Southside of the stadium
Wheelchair Accessibility
Wheelchair accessible seats are located on the East and West side of the stadium as well as the upper concourse level
A maximum of three (3) companions/escorts may accompany a guest with disabilities into designated seating areas.
Wheelchair Assistance
FIU Stadium provides wheelchair escorts for guests with limited mobility from any FIU Stadium entrance to the guest's seating location. Upon arriving at an entrance, please ask for assistance.
ADDRESS/PHONE NUMBER
For information about upcoming matches/events, directions to the stadium or to contact our administrative office, please call 844-MIAMI FC
AGE RESTRICTIONS
All children that have reached their third birthday by the date of the event must have a ticket for entry. Children ages 2 and under may sit in a ticketed guest's lap.
ALCOHOL POLICY
Guests are expected to obey all Florida state and local laws governing the purchase, possession, and consumption of alcohol. It is illegal for anyone under the age of 21 to consume alcoholic beverages.

FIU Stadium reserves the right to deny entry to anyone who appears to be impaired. For all Miami FC alcohol sales will be cease at the 70th minute. FIU Stadium reserves the right to change or modify the alcohol policies at any time.

There will be a maximum limit of two alcoholic beverages sold to each guest, per purchase, per valid ID. All guests who appear to be younger than the age of 35 will be asked to show positive identification prior to being served alcoholic beverages. Acceptable forms of valid United States identification are: driver's license, passport, United States passport card, state issued I.D. card w/ photo, military I.D. w/ photo and Mexican consular card.

FIU Stadium reserves the right to eject anyone under the age of 21 who is observed to be in possession of, or consuming alcohol on the premises.

Guests must discard alcoholic beverages prior to exiting the building.
ANIMALS
Animals are not permitted inside FIU Stadium. Exceptions will be made if a service animal is brought inside, the guest is responsible for the actions and for meeting all needs of the service animal. Service animals may not use additional seats unless a ticket has been purchased for the adjacent seat but may request accessible seating.
ANNOUNCEMENTS
FIU Stadium does not have the ability to page guests during events.
ANTHEM SINGERS
Singers interested in performing the national anthem for a Miami FC home game are asked to reach out to Bruno Barbato at bruno.barbato@miamifc.com
AUDIO/VIDEO RECORDING DEVICES
Audio/Video recording devices are strictly prohibited for all FIU Stadium events.
BABY-CHANGING AREAS
Baby Changing areas are located in the men's and women's restrooms between Gates 7&8 and 9&10 as well as the family restroom by Gate 3. If you need assistance in locating the restroom, please find the nearest FIU Stadium staff for assistance.
BALLOONS
Balloons of any kind are not allowed inside of FIU Stadium.
BINOCULARS
Binoculars are permitted in FIU Stadium. However, binocular cases are not permitted into FIU Stadium.
CAMERAS AND VIDEO EQUIPMENT
Cameras are permitted at FIU Stadium during the match. The use of cameras may not interfere with another guest's enjoyment of the event. The FIU Stadium staff reserve the right to ask any guest to discontinue the use of such devices.
The FIU Stadium defines professional lens cameras as a digital SLR with a detachable lens. Detachable lenses greater than 6 inches long are not permitted lens magnification cannot exceed 200mm. However, FIU Stadium does not allow camera cases into the stadium.
Selfie sticks, tripods, bipods and monopods are not permissible.
Video cameras and GoPros are prohibited. Unauthorized or prohibited photography of an event may result in film or videotape being confiscated. In all cases, the resale of photography or video is strictly prohibited.
Professional photographers with professional cameras or recording equipment, who are visiting FIU Stadium with the intent to take photographs or recordings of guests, Miami FC and its affiliates for professional purposes must make prior arrangements with Miami FC' Public Relations Department.
CLEAR BAG POLICY
In the interest of public safety and following the National Center for Spectator Sports Safety and Security (NCS4) Best Practices Guide, FIU Stadium will implement clear bag guidelines

Each ticket holder, including children, may carry one approved clear bag, such as a one-gallon clear plastic storage bag (Ziplock bag or similar), plus a small purse about the size of a hand.

The following bags will be permitted inside FIU Stadium and are subject to search:
Clear plastic bag that does not exceed 12″ by 6″ by 12″.
Clutch or small purse, with or without a strap that does not exceed 6.5″ by 4.5″
Equipment bag for necessary medical items.
Diapers and wipes can be carried in a clear bag for age-appropriate children accompanied by an adult.
Prohibited bags include, but are not limited to: large purses, coolers, briefcases, backpacks, fanny packs, mesh bags, or any bag larger than the permissible size. Tinted or printed-pattern plastic bags are not clear, so they will not be permitted.

Fans can wear or carry items such as binoculars, hand-held electronic devices and cameras (with lenses shorter than four inches) without carrying cases. Fans may carry in seat cushions that will be screened upon entry.

For more information about these guidelines please visit www.miamifc.com. Bags are subject to search at all entrances.
CODE OF CONDUCT FOR GUESTS
FIU Stadium is committed to creating a safe, comfortable, and enjoyable entertainment experience. We thank you for your cooperation.
FIU Stadium Guests have a right to expect an environment where:
Guests will be treated in a consistent, professional and courteous manner by all venue personnel.
Guests will enjoy every event free from disruptive behavior, including foul or abusive language or obscene gestures.
Guests will consume alcoholic beverages in a responsible manner. Intervention with an impaired, intoxicated or underage guest will be handled in a prompt and safe manner.
Guests will sit only in their ticketed seats/areas and show their tickets when requested.
Guests who engage in fighting, throwing objects or attempting to enter the field of play will be immediately ejected from the venue.
Guests will not smoke in the venue
There will not be any obscene or indecent messages on signs or clothing.
Guests will comply with requests from venue staff regarding facility operations and emergency response procedures.
Guests will be able to communicate instantly, discreetly and directly with FIU Stadium guest service centers if assistance is needed in dealing with an unruly fan, a cleanup in their section or any issues and concerns that a guest may feel the need to report.
Guests who violate the Code of Conduct may be subject to ejection without refund and, to the extent their conduct constitutes a violation of law, may be subject to arrest or face other sanctions; up to and including a ban.
Season ticket holders may also be subject to having their season subscription revoked or facing other sanctions.
DISRUPTIVE BEHAVIOR
All guests must maintain reasonable and appropriate behavior at all times. Guests using offensive language or engaging in disorderly conduct may be ejected from the stadium and may be subject to arrest. Ejected guests will not receive a refund for their tickets or be compensated in any way for their loss.
Disturbances include, but are not limited to, the following:
Standing on chairs
Placing children on shoulders
Drunk and disorderly conduct
Fighting or challenging others to fight
Interference with or delay of the game/event
Violation of FIU Stadium and its affiliates match day policies
Violation of the local, state, and federal laws and statutes
Igniting and display of flames, i.e. lighters / matches, in the facility bowl
Attempting to enter the field of play, restricted areas without permission, throw, discharge, or launch any liquid substance or objects
Willfully and maliciously disturbing another guest / visiting guest / employee with loud and unreasonable noise
Using profanity and/or offensive words, which are likely to provoke a violent reaction from others
Using offensive language against the players, referees, or visiting team guests
Any form of racist, discriminatory or abusive chanting is an ejection able offense and will not be tolerated. If you hear it, report it to Guest Services or Security immediately.
The venue will apply the strongest sanctions and uphold any decisions by club, league or law enforcement.
To Report Disruptive Behavior
Notify any employee – Usher, Event Security, Supervisor, Concessions, or Housekeeping
EMAIL: matchday@miamifc.com All information will be treated in the strictest confidence. With stand, row, seat number, description of the offender and incident and Miami FC staff will respond.
DOORS
Unless otherwise noted, doors for FIU Stadium events will open 60 minutes prior to each event. Media access begins 3.5 hours before kickoff.
ELECTRONIC DEVICES
The use of cellular phones and tablets are permitted providing they do not interfere with another guest's enjoyment of the event. FIU Stadium and its affiliates reserve the right to ask any guest to discontinue the use of such devices.
Policies regarding the use of these devices will vary for other events and are solely at the discretion of the show and are subject to change.
Note that such devices may not be used to record video of events in accordance with event policies
EMERGENCY CONTACT INFORMATION
FIU Stadium does not have the ability to look up a guest's seat location or to make guest pages.
ENTRY TO THE STADIUM
FIU Stadium operates a queuing procedure to co-ordinate and moderate the flow of guests to the turnstiles in order to ensure a safe entry into the stadium.
On arrival at the queuing areas, guests should follow directions from FIU Stadium staff members: pre-entry ticket checks, body & bag search, electronic ticket scan, entry through ticket lines
FIU has four (5) main entrances for Miami FC fans:
Gate 4 (on the Southeast side of the stadium). VIP, Media, Player, Referee Entrance
Gate 7 (on the Northeast side of the stadium). Opened for select events only.
Gate 8 (on the Northside of the stadium
Gate 9 (on the Northside of the stadium)
Gate 10 (on the Northwest side of the stadium). Supporter entrance
FACILITY EVACUATIONS
In the event of an emergency, all FIU Stadium event staff and its staffing provider have been trained and instructed to assist guests in evacuating the premises. Always remain calm and follow the instructions from stadium staff and emergency personnel. All emergency exits are identifiable.
Guests will be given instructions by the public-address/open-caption systems. Exit instructions will also be posted on the stadium video boards
Guests are encouraged to take the following steps:
Be aware of your location in the FIU Stadium at all times.
Identify the two exits located nearest to your seats.
Listen, observe and follow instructions from the stadium staff, public-address system, video boards, and emergency personnel.
Ask for assistance and information from ushers, police, medical and security personnel.
Do not panic.
Guests are asked to remain calm, walk to the exits at a normal pace and proceed to the nearest safe area.Elevators are NOT operational during an evacuation.
Individuals in wheelchairs should evacuate in an emergency by using a ramp or wait at an elevator for Emergency Medical Services or other First Responders
FIRST AID
First Aid responders are available at all events to assist any guest with medical needs. Guests may also contact the nearest stadium staff for assistance or directions to First Aid.
GUEST SERVICE CENTER
Miami FC Guest Services Center is located on the North concourse near the main entrance. Staff will assist and respond to all types of guest inquiries and/or suggestions, including questions, problems, wheelchair assists, lost children and lost/found articles. Team schedules, parking brochures and other information are also available in the Guest Services Tent.
GUESTS WITH DISABILITIES
If you find that you require special assistance during an event, please consult the nearest FIU Stadium guest service member.
INCLEMENT WEATHER POLICY
FIU Stadium rarely cancels or postpones events due to inclement weather. Be advised that tickets for all events are sold on a non-refundable and non-exchangeable basis. Should a decision be made to cancel or postpone an event, this information will be posted, as soon as it is determined. Examples of inclement weather are, lightning, high winds, hurricanes, tornados, etc.
In the event of inclement weather during the event, please follow the instructions of stadium staff and evacuate your seat and move to safety on the concourse below the seating bowl. Please remain in a safe area until further communication from stadium personnel.
LOST AND FOUND CHILDREN
If you become separated from your child during an event, please inform the Guest Services Center by Gate 9 or the nearest security officer. When bringing children to an event it is always helpful to make sure that the child has their contact information, ticket or seat location with them at all times.
LOST AND FOUND ITEMS
All lost items found are brought to the University Credit Union Box Office located in the Kirk R. Landon Field House and will be held for thirty days. All individuals can call 305-348-4263 or visit the University Credit Union Box Office to see if your item(s) has been found.
MEDIA CREDENTIALS
Press Inquiries:
General media inquiries (including requests for interviews, photos, press credentials, etc.) should be e-mailed directly to Juan Aguerrevere at juan.aguerrevere@miamifc.com. Please include your full name, detailed request, affiliation and deadline.
RE-ENTRY POLICY
FIU Stadium enforces a no re-entry policy.
PARKING
On an event day, parking for fans will be available for free at the Cuban Memorial in Tamiami Parl. For directions, click here.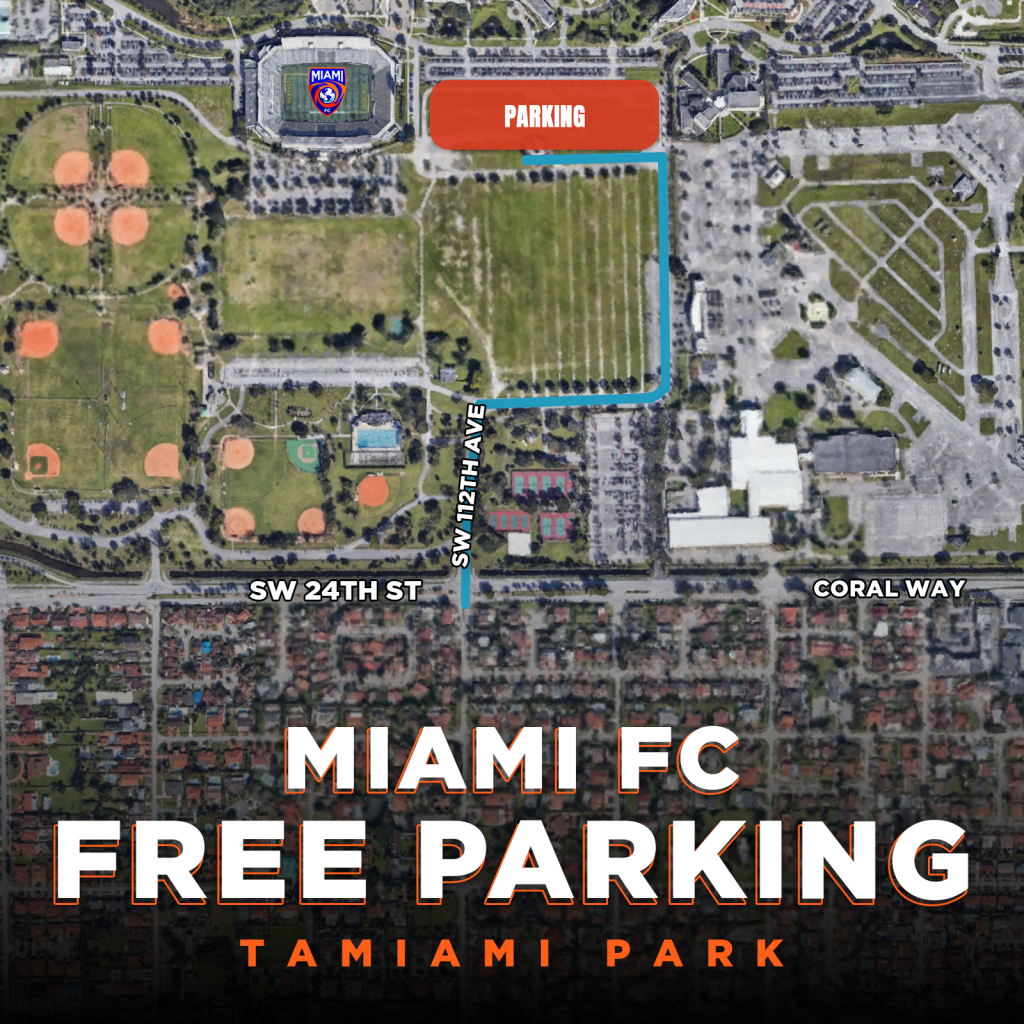 PROHIBITED ITEMS
The following items may not be brought into the FIU Stadium:
Aerosol cans (e.g., mace, pepper spray, hairspray, etc.)
Air horns
Animals (Service Animal exception)
Backpacks
Bag (Clear) that does not exceed 12″ by 6″ by 12″
Bag (Clutch or small purse), with or without a strap that does not exceed 6.5″ by 4.5″
Binocular Cases
Bottles
Cameras with detachable lenses and/or lenses 6 In. or longer and camera cases
Cans
Carts
Coolers
Fireworks
Flags larger than 4ft x 4ft
Food or Drink (Medical and infant exceptions)
Glass
GoPros
Hard containers
Illegal drugs
Laptops
Large Bags (Beach bags, large purses, duffle bags, suit cases, etc.)
Laser pointers
Megaphones/Noise Amplifiers
Noisemakers/Horns
Poles longer than 6 ft.
Recreational equipment (Soccer balls, etc.)
Seats with metal backs and/or zippered compartments
Selfie Sticks
Signs larger than 4ft x 4ft
Signs with indecent or derogatory comments/images, political statements, and commercial references
Skates and Skateboards
Smoke Bombs
Tripods
Unauthorized solicitation, handbills, giveaways, or sampling
Umbrellas
Video or audio recorders
Weapons of any kind
All bags and clutches are subject to inspection upon entering the venue. Clear bag policy applies.
Medical and infant exceptions will be made as necessary.
See –Supporters Sections for items that appear here as prohibited but are allowed in the Supporters stands with special permission from the club.
REPORT A CONCERN
On event days we offer a service for guests to quietly report problems within their area. The comprehensive list of categories which can be reported are listed in our disruptive behavior section.
Send an email to: matchday@miamifc.com
All information will be treated in the strictest confidence. Please include stand, row, seat number, description of the offender and incident and Miami FC staff will respond.
ROAD CLOSURES
Miami FC will notify any campus or Miami-Dade Fairgrounds road closures through our social media channels.
SEARCHES
For safety purposes, all guests entering FIU Stadium will be searched and have their belongings scanned. Miami FC reserves the right to confiscate items which may cause danger or disruption to the event or other guests, or which are in breach of building policies and/or prohibited items.
Any guest who declines to be searched may be denied entry or ejected from FIU Stadium.
To speed the process, prior to arriving at the first security check:
Make sure that any bags being carried in meet stadium guidelines.
Remove any jackets or other large, bulky items from your bag and carry these in hand. When the contents of your bag are clearly visible staff can screen bags without requiring any contents to be removed.
If blankets or other items conceal the contents of a bag, staff must request that they be removed for screening to take place, delaying the process.
For screening with the metal detector, remove any keys, coins or other metal objects from your pockets and hold these in hand.
SEATING
All guests entering FIU Stadium may only occupy the seat or ticketed area allocated to them by their ticket and must not move from any one part of the stadium to another without the express permission or instruction of any usher, security, supervisor, or officer of the Club.
SECURITY
Security for FIU Stadium will be coordinated by FIU Athletics Stadium Event Management personnel in conjunction with the FIU Police Department. Contemporary Services Corporation (CSC) serves as event security for FIU Stadium.
SIGNS / BANNERS / FLAGS / POSTERS
Unless otherwise specified by teams and/or event officials/management, FIU Stadium welcomes guests bringing small signs, banners, posters and flags inside the building to show fan support during events. All signs, banners, flags, posters must follow these guidelines:
Item must be related to the event
Item may only be attached to a flexible PVC pole no larger than 6ft.
Item may not be larger than 48″ x 48″ in dimension.
Item may not obstruct any sponsors/advertisers signage
Item may not contain or display obscene/offensive language and/or pictures, as determined by FIU Stadium management
Item may not obstruct the view of other guests or any stadium advertising signage or be affixed to the stadium in any manner.
Item may not in any way create a safety hazard for others as determined by FIU Stadium management
See – Supporters Section for exemptions to this policy.
Any banner or sign may be removed, at any time, at the sole discretion of FIU Stadium management.
SMOKELESS TOBACCO
The usage of smokeless tobacco is strictly prohibited.
SMOKING POLICY
FIU Stadium is a smoke-free facility, smoking is not permitted.
SPECTATOR SAFETY
Soccer balls may fly into the spectator area during the event. Serious injury can occur. Stay alert at all times including during warmups. If struck, immediately ask the stadium guest services and security staff for direction to first-aid station.
STROLLERS
Strollers are permitted inside FIU Stadium. They must be checked upon entry and dropped off at the stroller hold area at Guest Services near Gate 8.
SUPPORTERS
Being in a Supporter club is much more than standing behind the goal and singing your heart out for the boys in Blue and Orange. It's being part of a huge family, where everyone comes together to celebrate their love of the Beautiful Game. Supporter clubs are responsible for creating the intimidating, raucous atmosphere that makes the stadium a fortress that opposition teams fear to visit.
Recognized Supporter clubs have certain privileges, which include:
Use of flags and tifos
Use of drums / instruments
Use of controlled smoke
Supporters shall focus on supporting and promoting Miami Football Club. Specifically, our supporters will work to build stronger camaraderie and cooperation between fans in a coordinated attempt to create the loudest, most creative, most passionate and visually stunning sporting experience in North American soccer.
Any group interested in becoming a Recognized Supporter Club should contact Bruno Barbato, bruno.barbato@miamifc.com
TELEPHONE NUMBERS
The Miami FC
Phone: 1.844.MIAMIFC
Ticket Sales:
1.844.MIAMIFC
info@miamifc.com
Guest Experience:
1.844.MIAMIFC
info@miamifc.com
Press Inquiries:
General media inquiries (including requests for interviews, photos, press credentials, etc.) should be e-mailed directly to Director of Communications – Nico Castillo – nico.castillo@miamifc.com
Corporate Partnerships:
To learn more about partnership opportunities, please contact Jorge Bennaton at jorge.bennaton@miamifc.com.
TICKETS
Tickets for Miami FC may be purchased through Miami FC Front Office, www.miamifc.com/tickets. Please be advised that we cannot guarantee the authenticity of tickets obtained through any other source.
Guests must have their tickets on their persons at all times when attending an event.
TICKET WINDOW HOURS
The FIU Stadium Ticket Windows are only open on event days.
Ticket windows will open 2 hours prior to event start and will remain open until 60 minutes after the start of a match or event.
The Ticket windows are located at Booths C & D. Which are located on the Northside of the stadium between Gates 7&8 and 9&10.
There is no short-term parking available in front of the stadium for ticket purchases
Due to Miami FC's new digital ticketing system process, there is no longer a "Will Call" to claim or drop off physical tickets. For customer service issues with your digital ticket at the stadium, please see a representative at Booth C or D between Gates 7&8 or 9&10. For assistance with your digital ticket prior to gameday, please call 844-MIAMI-FC or email info@miamifc.com.
For Media or VIP Credential Pickup on gameday, please see representative located at Gate 4 Window. Window will be open 2 hours prior to event start.
WEAPONS
Guests are strictly prohibited from bringing weapons into FIU Stadium.
Weapons include, but are not limited to, the following: firearms, explosives, stun guns, handcuffs, brass knuckles, sticks, clubs, batons, martial arts instruments, pepper spray, tear gas, knives, etc.
Guests found in possession of the above-mentioned items will be asked to remove the item from the stadium or dispose of it. Guests who refuse to comply will be ejected from the stadium and may be subject to arrest.
Off-duty law enforcement are prohibited from bringing their firearm and/or weapons in the stadium.
See Prohibited Items for additional items that are including, but not limited to the items listed in Weapons
WHEELCHAIRS
FIU Stadium provides wheelchair escorts for guests with limited mobility from any FIU Stadium entrance to the guest's seating location. Upon arriving at an entrance, please ask for assistance at the Guest Services booth