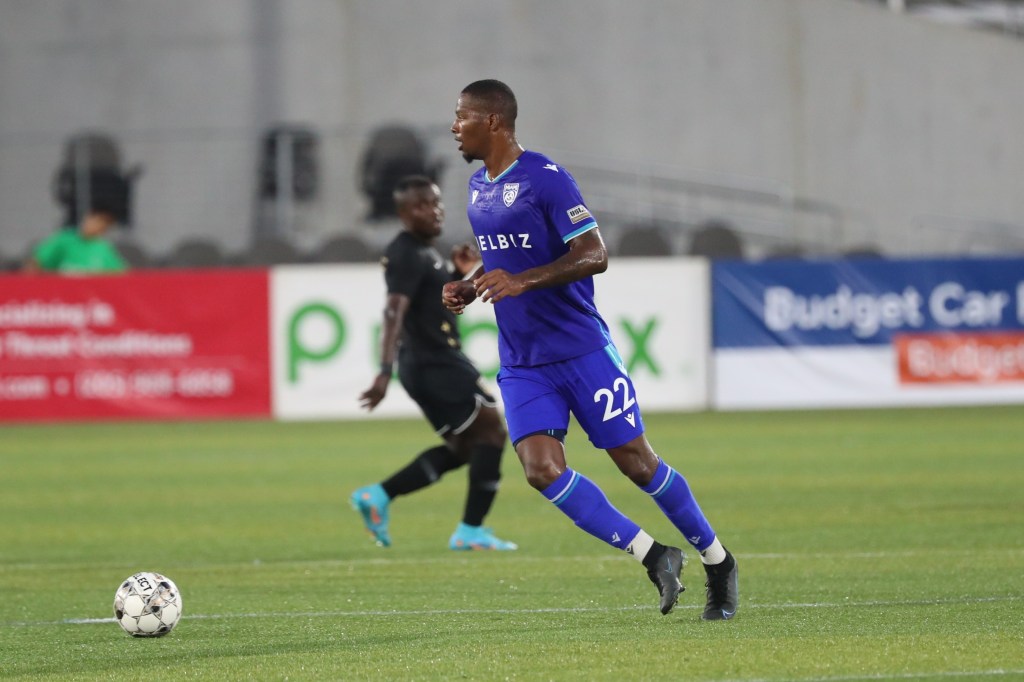 Birmingham, Ala. (Wednesday, May 4) – The Miami Football Club returns to South Florida with four out of nine possible points after three consecutive games on the road. A goalkeeping masterclass from Connor Sparrow, along with help from Miami's back-four, earned Miami FC its first-ever point against Birmingham Legion FC.
Starting XI vs. Birmingham Legion FC
Manager Anthony Pulis made one change to his lineup ahead of the away match. Reggae Boy Lamar Walker started his first game of the season over left-winger Pierre da Silva, who scored the game-winning goal against his former club Memphis 901 FC on Sunday. Moreover, ex-Legion FC players Bolu Akinyode and Ben Ofeimu earned starts against their former team.
First half breakdown
Miami FC registered the first shot on target of the game in the 13th minute. Right-winger Josh Pérez controlled a long ball sent by left-back Aedan Stanley. Subsequently, Pérez beat a defender by cutting onto his favorite left foot and unleashed a low shot caught by Legion FC goalkeeper Matt Van Oekel.
Stanley launched another long pass from a free-kick on the right side of the pitch in the 19th minute. Ofeimu struck the ball with his head at the second post, but it floated with pace above the crossbar for a goal kick.
Pérez and Miami's No. 10 Florian Valot combined for a clear chance in the 25th minute. The El Salvador international took on three defenders before dishing possession out to Valot at the top of the 18-yard-box. The Frenchman released a first-time shot that made Birmingham's goalkeeper work for his second save of the night.
Captain Paco Craig and Akinyode teamed up in a free-kick taken by Stanley, bringing danger to Birmingham's area again. Paco, who attacked the second post, knocked the ball across the six-yard box toward Akinyode, whose headed attempt at the first post went wide.
Miami FC led in shots and possession statistics after the first 45 minutes. Pulis' men held on to 57 percent possession. In front of the goal, MFC posted six shots on target, two of them testing the opponent goalkeeper. Birmingham Legion FC produced two shots, failing to put Miami goalkeeper Connor Sparrow to work.
Second half breakdown
Miami continued moving the ball well in enemy territory in the early stages of the second half, with Pérez producing a diving-headed attempt in the 49th minute. However, the ball flew over the bar.
Birmingham Legion FC's first big chance arrived at the 52nd minute. Midfielder Anderson Asiedu kicked the ball from a central position 25 yards out, but the shot drifted just wide of the upright.
A triple substitution unfolded in the 64th minute. Forwards Adonijah Reid, Romeo Parkes and Da Silva came on for striker Kyle Murphy, left-winger Lamar Walker and Pérez.
Less than a minute after, Sparrow made his first save of the night. The 27-year-old goalkeeper stretched his arm up high to deflect another powerful strike from Asiedu, this time from 16 yards out.
Sparrow made his second save in the 68th minute. The St. Louis native held on to the ball after a headed attempt from center-back Phanuel Kavita.
Legion FC continued its offensive efforts, testing Sparrow once again from outside of the box. This time, substitute Zachary Herivaux hit a first-time shot that Sparrow barely deflected onto the crossbar and back into play.
Parkes had a chance to score a game-winning goal in the 86th minute, but he did not head Reid's cross on target. A minute later, Sparrow closed down winger Prosper Kasim to keep Birmingham at bay.
Parkes had one lat attempt on target in added time, but Van Oekel blocked the left-footed shot with his chest.
Birmingham Legion 0-0 FC Miami FC: match notes
Miami FC earned a point against Birmingham Legion FC for the first time. The record now sits at 2W-1D-0L in favor of Legion FC. Previous two results: 1-0 Legion FC win in 2021, 4-0 Legion FC win in 2020.
Sparrow earned his fourth clean sheet of the campaign. He is only two shutouts away from equaling his total in the 2021 season (6).
Up next for Miami FC
Miami FC returns to South Florida to host Western Conference heavyweights San Antonio FC at FIU Stadium on Saturday, May 14, at 7 p.m. ET.
San Antonio is flying in the West, sitting in second place with 21 points after eight fixtures. The Texan side demolished Western Conference bottom dwellers Monterrey Bay 6-0 on Saturday and is preparing for a U.S. Open Cup Round of 32 showdown against Houston Dynamo.
Fans can buy tickets for the game against San Antonio FC here.