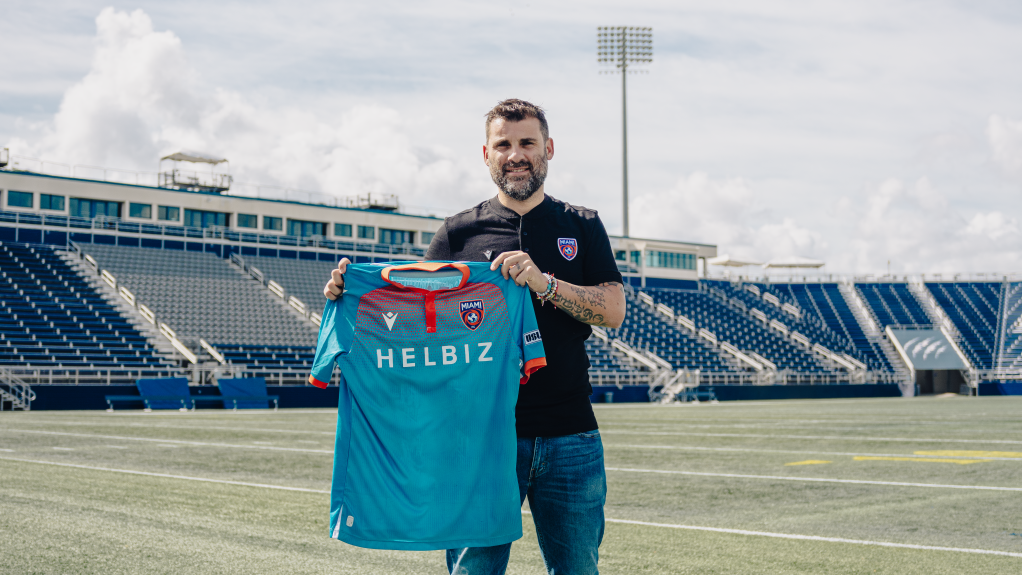 Miami, FL. (November 14th, 2023)
The Miami Football Club (Miami FC) announced today the signing of Antonio Nocerino as the club's next head coach ahead of the 2024 USL Championship season. The former AC Milan and Italian National Team star is set to become the 5th Head Coach in club history, bringing tremendous experience and credibility to the 305.
"I am extremely excited to bring in an individual like Antonio Nocerino to lead this next phase of Miami FC's future," said Miami FC Owner and Founder Riccardo Silva. "Antonio's incredible experience, knowledge and character are the perfect fit for The Miami Football Club as we pursue our mission to become a destination for players domestically and internationally. Our commitment to this city has never been stronger."
Nocerino is uniquely qualified to facilitate top player recruitment and development to achieve on-field success for Miami FC. As a Juventus youth academy product, the Naples, Italy native will bring extensive credibility to the Miami community. Coaching previously at Orlando City's Development Academy and Potenza Calcio in Italy where he showed significant growth and improvements in the squad, his experience as player, coach and mentor will assist in a successful transition into the head coach role.
"This hire is a monumental step for Miami FC as we approach an exciting period for soccer in Miami and the United States," said Miami FC CEO Michael Williamson. "Miami is solidifying itself as a global hotbed of football which includes the upcoming 2026 FIFA World Cup, and many football-related organizations and federations now calling Miami home. That is why we are very pleased to welcome Antonio Nocerino as the leader of the club on the pitch. ThroughoutAntonio's career as both player and coach he has proven to be successful in every facet. With his leadership, Miami FC will create an identity that is fearless and relentless, while developing players professionally to be better both on and off the pitch."
Nocerino, who holds a UEFA Pro coaching license, has an extensive professional career as a player, including over 350 professional appearances since 2003 for global clubs such as 36-time Italian Serie-A champions Juventus, 19-time Serie-A champions AC Milan, and 55 appearances with Orlando City in the MLS. His resilient work ethic resulted in earning Serie-A Team of the Year for his stellar performance during the 2011-12 season during his time at AC Milan. He was also an important member of their Champions League run to the Quarterfinals where they faced Barcelona.
Nocerino also holds the honor of representing Italy as a member of the National Team. The energetic and technical midfielder earned 15 caps for the Italian National Team including the 2012 Italian UEFA European Championship side that finished as runner-up against Spain.
"I am honored for the opportunity to write a new chapter as head coach of Miami FC", noted Nocerino. "I truly believe in the short-term projects we have planned here at the club but also the long-term ones, which represent a new and exciting challenge. One of my goals will be to make a lasting impact on and off the field. My approach will always be the same: determination, discipline, resourcefulness, and appreciation for every moment that football has to offer."
As the team begins to rebuild its roster for 2024, Coach Nocerino's first task will be finding domestic and international talent to forge the path forward for the club. Combining veterans and mentors alongside younger talent, Miami FC will be looking to Nocerino to assemble a squad with a winning mentality that is tenacious, disciplined and passionate about the game and the Miami community.
Nocerino and the club will be focusing on finding local talent that fits into this new developmental strategy. This will include the upcoming open tryouts in January of 2024 as well as identifying key talent in the Miami FC Youth Academy and surrounding youth systems.
For more information on the 2024 open tryouts visit miamifc.com. As the club continues to build the 2024 roster stay tuned at miamifc.com to keep up with future updates.
For inquiries, please contact:
Matteo Cozzoli, Digital Marketing Manager
M: (646) 724-8873
+39 331 9723020
Or visit: