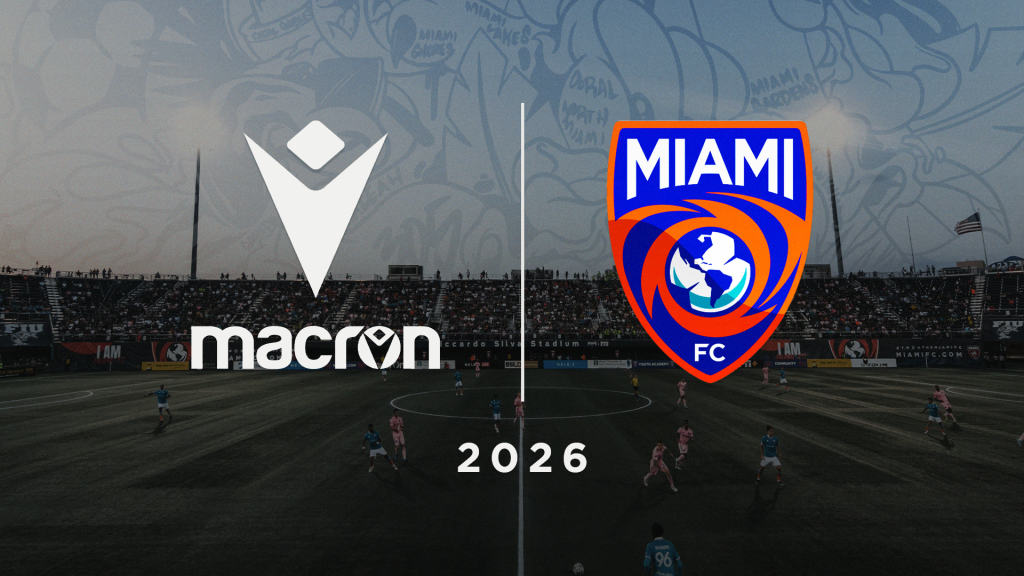 BOLOGNA, Italy (July 29, 2022) – The Miami Football Club, an American professional football club that plays in the USL Championship, and Macron, a leading international brand in the teamwear sector, announced on Friday its partnership extension, with the Italian company continuing to be the club's technical kit supplier. The American club and the Italian company have officially renewed their technical sponsorship agreement through 2026, which marks an important milestone of ten years of the two organizations' commitment to youth and pro soccer in Miami.  
The partnership between Macron and Miami FC began in 2016 and has allowed the Italian company to approach a significant and key market, where today the Macron Hero stands shoulder to shoulder with many US and North American sports clubs. The relationship has grown season after season through friendship and mutual appreciation, and a close collaboration that has led to the creation of refined and exclusive clothing lines. With quality and high-performance products that have been capable of interpreting the club's culture and identity, the partnership has always resulted in positive feedback from Miami FC fans. 
Ahead of the 2022 season, Miami FC and Macron introduced the 305 and La Ciudad kits, which received rave reviews due to their customization and connection to the Miami community. These revolutionary kits included the names of the Miami communities embossed into the jerseys, an emblematic 305 patch on the back and on the home kit a pattern of waves across the front of the jersey, which symbolizes those of the Biscayne Bay. The front of La Ciudad screams Miami, vesting a sublimated texture on the front which includes the iconic Miami Skyline and the names of Miami's neighborhoods sitting in the sky above it.  
Macron manufactured the 2022 jerseys with Macron Eco Fabrics made with a thread composed of 100% PET recycled polyester. In simple terms, Macron recycles 13 16 oz bottles for every 305 and La Ciudad produced. Miami FC's 2022 official jerseys are a continuation of Macron 4 The Planet, a series of initiatives that the company undertakes to promote greater environmental sustainability.
"We are delighted to be renewing our partnership with Miami FC", said Roberto Casolari, Macron's Sports Marketing Director. "Taking such an important journey together over time is deeply significant and is proof of a strong mutual affinity. It's a stimulating relationship that allows us to plan and develop new collections that are increasingly innovative in terms of design and graphics, as well as for the use of ever better-performing fabrics. Our mission is to tell the story of a club through its colours and symbols by creating shirts that players and fans alike will always wear with pride". 
"Macron has been part of the Miami FC family since its inception in 2016," said Miami FC CEO Michael Williamson. "Over the years, we have been able to develop iconic kits for the Miami Community, especially this season with our '305' and 'La Ciudad' kits. Macron has helped us create unique jerseys in the football landscape, while also providing an environmentally sustainable product. We are excited to already be working on our upcoming 2023 kits that we know will resonate strongly with the 305 Community."