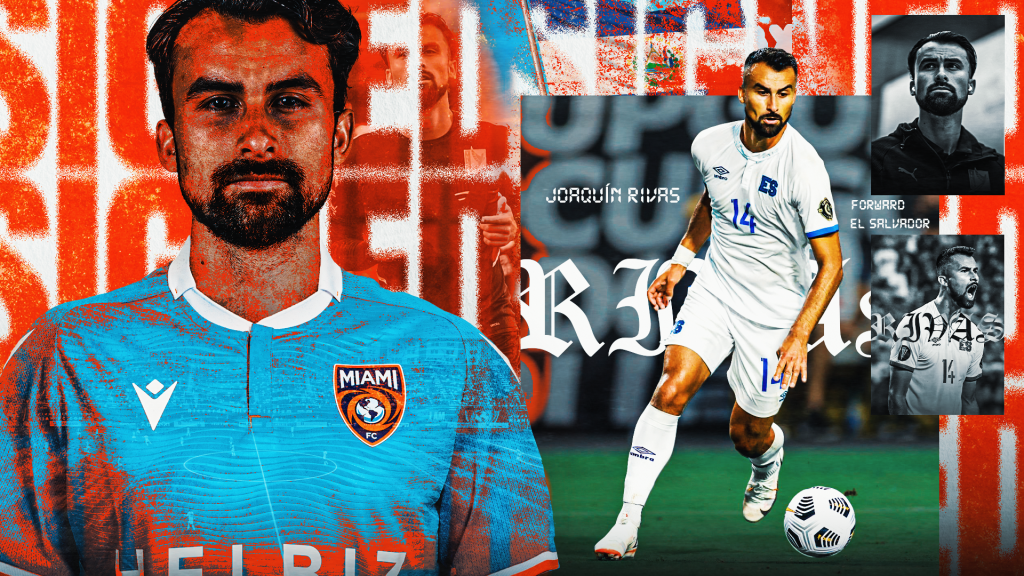 Miami, Fla. (Wednesday, June 22) – The Miami Football Club announced on Wednesday that the club has acquired forward Joaquín Rivas from FC Tulsa, pending league and federation approval. Meanwhile, rightback Sean McFarlane has been loaned out to FC Tulsa for the remainder of the season.
The Salvadoran joins Miami FC from FC Tulsa to expand head coach Anthony Pulis' attacking options.
"Joaquín is a full international and has a good track record of creating and scoring goals in this league," said Pulis. "He can play in any of the front four positions, so he gives us good options and adds competition in those spots."
Joaquín Rivas Club Experience
Rivas is a veteran player with nine years of experience in the USL Championship. He arrives at Miami after making his 100th appearance for FC Tulsa in all competitions. The 30-year-old bagged 26 goals and provided nine assists in his two stints and three-and-a-half seasons in Tulsa.
The Salvadoran and Pulis have worked together in the past. The winger played 21 games for Pulis at Saint Louis FC across two seasons. Rivas' 2019 season was cut short due to a knee injury, but he came back from injury in 2020 and played 13 matches.
Joaquín Rivas International Experience
Rivas represented El Salvador 31 times since 2018, competing in the region's top international tournaments: CONCACAF World Cup Qualifiers, Gold Cup and CONCACAF Nation's League games. The veteran's goal tally sits at four, and his assist count at three.
The University of Nevada Las Vegas graduate took part in two of La Selecta's last three Nation's League games in June. He played against Grenada twice, home and away, and remained on the bench against the USA.
Salvadoran Trio
Fellow Salvadoran internationals Christian Sorto and Josh Pérez welcome Rivas with open arms in South Florida.
Peréz and Rivas shared the pitch while wearing La Selecta colors on 12 separate occasions. On the other hand, Rivas appeared at the same time as Sorto in the 22-year-old's two appearances for El Salvador.
Sean McFarlane to FC Tulsa
McFarlane was never a stranger to South Florida. The Jamaican international attended high school at American Heritage School in Fort Lauderdale and played two collegiate seasons at Florida International University in 2013 and 2014.
The Reggae Boy returned to the 305 after stints at Tampa Bay Rowdies 2 (NPSL) and Colorado Springs Switchbacks to play with Miami FC in the 2018 National Premier Soccer League (NPSL) season. Moreover, he played in all 12 regular season matches and four playoff games to help Miami FC win the title in 2018.
The FIU graduate returned to Panthers territory to play with Miami FC in 2021 after a successful two-year tenure with Austin Bold. He appeared in 28 matches in one-and-a-half seasons, helping the Orange and Blue to a playoffs appearance in 2021.
The 31-year-old will finish the 2022 USL Championship season in Oklahoma as an FC Tulsa player. The club would like to wish McFarlane all the best in his new chapter.
Up Next for Miami FC
Miami FC hosts LA Galaxy II Saturday, June 25, at FIU Stadium. The game is scheduled to kick off at 6:40 p.m. ET.
Make sure you watch Rivas in a Miami FC uniform for the first time by purchasing tickets HERE.