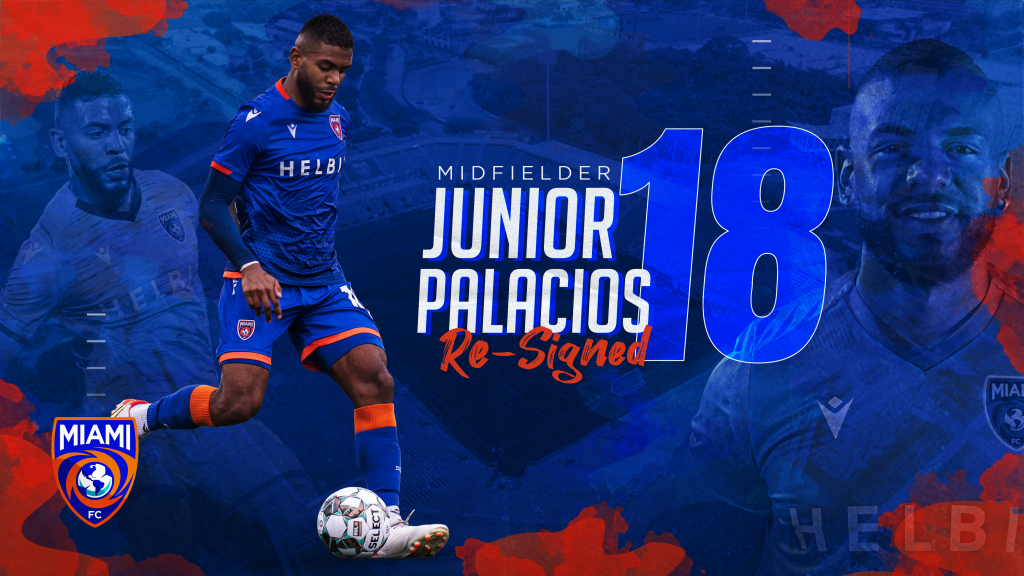 MIAMI (December 21, 2021) – The Miami FC announced on Tuesday that Colombian midfielder Junior Palacios has been re-signed through 2023, pending league and federation approval. Palacios had officially joined the club ahead of this past USL Championship season.
"I'm delighted to secure Junior to a new contract," mentioned Head Coach Anthony Pulis. "I've heard excellent things about his character, mentality and work ethic. From listening to his journey and background story, I know he has the hunger to do well and keep taking steps forward as a player. On the field his versatility will be a huge asset for the group this year on top of his physical and technical qualities. He is a player I'm very much looking forward to working with this upcoming season."
Originally from Cali, Colombia, Palacios came to the US to continue his career as a footballer, trying his luck at several local clubs before finally getting a chance with Miami FC.
The midfielder spent several months in 2020 on trial with Miami FC, before earning a contract ahead of the 2021 season. During this past season, Palacios played in 27 matches while finishing fifth on the team in passes completed (971) and second in tackles (65).
Palacios was deployed as a center midfielder, center back and right back during 2021, showing how versatile he can be on the pitch.
"I am beyond excited to continue to represent the colors of this club," said Junior Palacios. "I can't wait until preseason starts to continue what I love to do and leave it out on the pitch. I enjoyed last season so much, especially being able to play in front of my family and friends, and I know this upcoming season will be no different."
Don't forget to lock in your 2022 Season Tickets today by visiting MiamiFC.com or calling 844-MIAMIFC. Your fútbol305 membership can be secured for only $25!