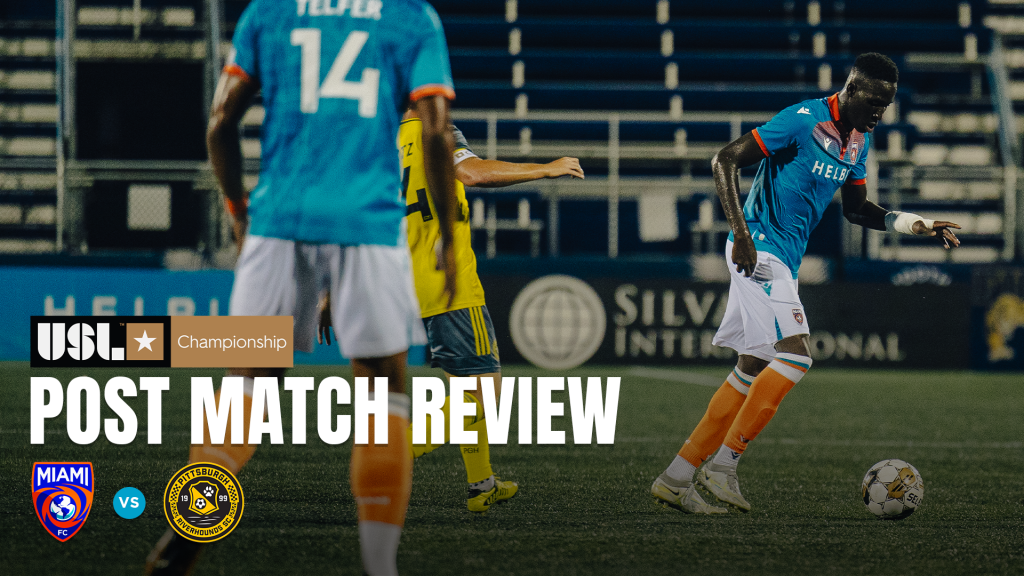 Miami, FL. (September 17th, 2023)
On Saturday night a pivotal clash unfolded for Miami FC, as they squared off against the Pittsburgh Riverhounds at FIU Stadium.
The first half saw both squads cautiously testing each other, combining short passes around the midfield. Understanding the match could have implications in the league standings, both teams remained patient in the attacking third and waited for the right moment to strike.
Miami dominated the possession, but their attempts at goal were limited with just one shot on target during the first half.
However, as the first half progressed Pittsburgh gradually found its rhythm. The league leaders began to find their flow in the passing game, forcing the Miami backline to work hard on the defensive side. The first half ended 0-0, with both sides feeling that they could leave with a victory if they could find the first goal.
The second half witnessed Miami retaining their grip on possession, but continuing to struggle with creating clear-cut scoring chances. Despite their struggles finding the back of the net, Miami FC exhibited a relentless determination to clinch the victory, with every player on the pitch giving everything they had.
The turning point happened in the 63rd minute when Pittsburgh was granted a penalty kick. The Pittsburgh striker calmly slotted home the penalty, giving Pittsburgh a 0-1 advantage.
Despite going down 0-1, Miami refused to give up. Their tenacity paid off in the 88th minute when a beautiful pass from Cabral led to a clinical finish by Telfer, restoring the deficit and leveling the match at 1-1. The stadium erupted in joy, providing a newfound sense of energy to both the players and the fans.
However, the euphoria was short-lived. Immediately after leveling the score, Miami briefly lost its focus. Forgetting to mark forwards on a throw-in, Miami conceded a gut-wrenching goal in the 90th minute that handed Pittsburgh a 2-1 lead in the match's dying embers. The disbelief and anguish were visible on the players' faces, as Miami had fought valiantly to mount a comeback only to suffer a cruel last-minute defeat.