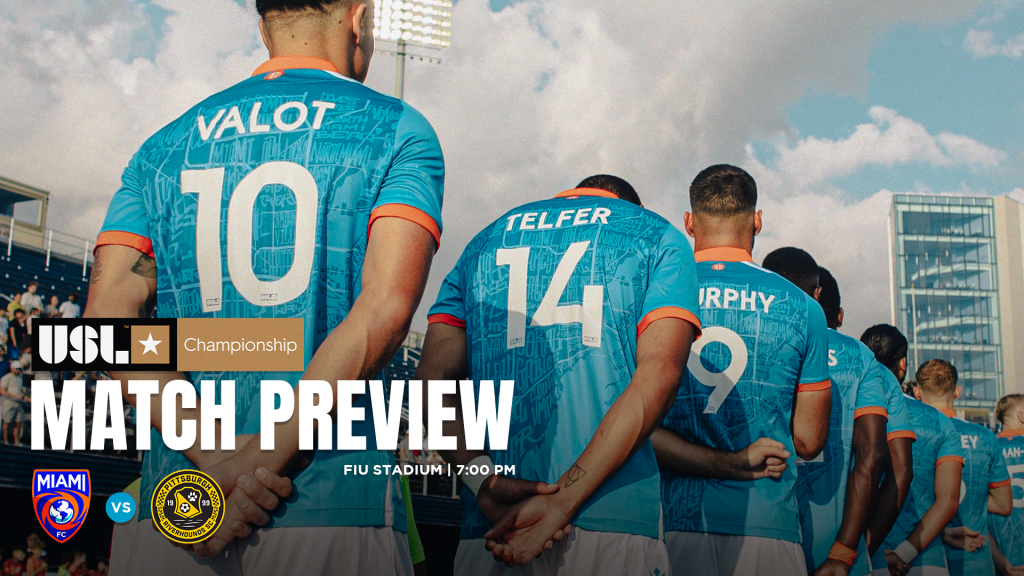 Miami, FL. (September 15th, 2023)
As the week draws to a close, anticipation is building among fans for Miami FC's Saturday clash with Pittsburgh Riverhounds SC at the FIU Stadium. Tickets are available at miamifc.com. The game will be broadcast on TV33 for local television viewers and available for streaming on CBSMiami.com, ESPN+, and YouTube.
Keen to change last week's narrative, Miami is looking to bounce back from a disappointing road loss to Detroit and keep their postseason aspirations alive with a win against the USL Eastern Conference division leaders.
With everything to play for, Miami FC is ready to put its best foot forward this weekend.
A major boost for Miami FC is the return of Paco Craig from his red card suspension. Craig's discipline and veteran presence were sorely missed against Detroit, and his return is expected to bolster Miami's backline considerably.
Adding to Miami's strength are the returns of Joaquín Rivas and Ryan Telfer from international duty. Both players have showcased their talent and versatility throughout the season, and their presence on the field will undoubtedly add some creativity and flair to Miami's attacking core.
However, Miami faces an imposing obstacle with Pittsburgh. The league leaders have been nothing short of impressive throughout the season, sitting comfortably atop the league table with 54 points. They have been a consistent and dominant side all season long, trademarked by their stingy defense that has registered 13 clean sheets so far this season. Miami will need to be clinical with their opportunities in the final third if they hope to break down their organized opposition.
For Miami, this match is more than just a regular-season fixture; it's a must-win scenario. The post-season dream is still alive, but it hangs in the balance. Every point at this stage of the campaign is vital, and Miami FC knows that they must secure a victory to keep their playoff hopes intact.
The stakes are high, and the stage is set for a gripping encounter Saturday night. Miami FC will be looking to their returning stars – Craig, Rivas, and Telfer – to provide the spark they need to get the result at home. It's a battle that showcases top-tier USL soccer, and fans can expect an entertaining match as Miami FC fights to keep their post-season dreams alive.