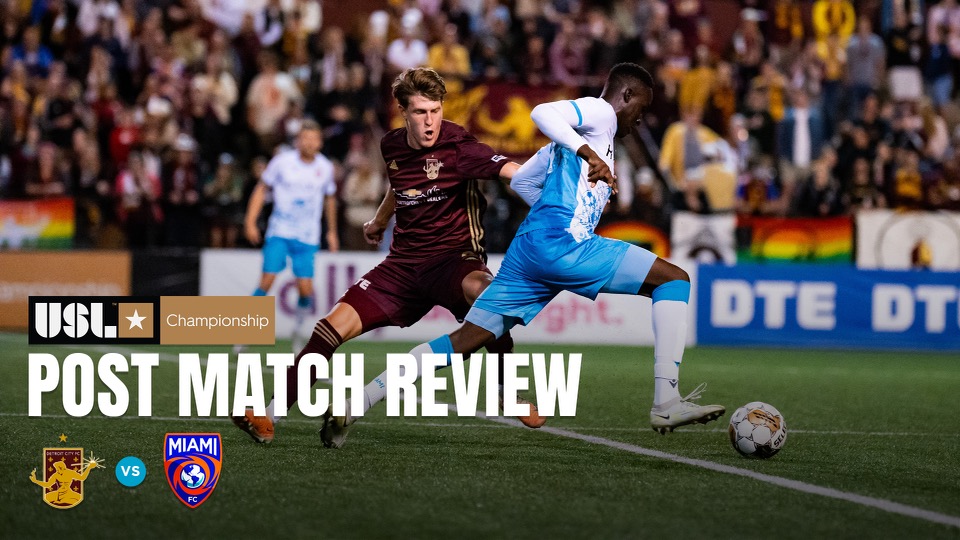 Miami, FL. (September 10th, 2023)
In a key matchup involving post-season aspirations, Miami FC suffered a heart-wrenching 2-1 defeat on the road to Detroit City FC.
The match promised to bring fans excitement, with the two sides separated by just two points in the standings entering the match. The fixture definitely delivered, but it was Detroit who came out on top, clinching a victory in a hard-fought encounter.
The opening minutes saw Miami FC dealt a stunning blow, as Detroit City FC crafted a breathtaking header goal to seize a 1-0 lead. It was a swift and immediate attack that caught Miami's defense out of position, giving Detroit a lead at home and inspiring their devout supporters.
Undeterred by the early setback, Miami FC showcased tremendous perseverance and character. The team dug in and fought back, dominating possession and finding attacking opportunities in the final third. It seemed certain that Miami would equalize in the first half, with Christian Sorto coming close on multiple efforts. Despite knocking on the door, Miami was unable to find the equalizer, and the first half ended 1-0.
Miami's mettle was tested again early in the second half when Detroit City doubled their advantage to 2-0 in the 55th minute with another header goal.
With the odds stacked against them, Miami FC launched a relentless fightback. They pressed forward with unwavering determination, determined to erase the deficit and take something from the match. Their persistence paid off in the 74th minute when a hard-earned penalty kick was awarded to them.
Claudio Repetto calmly stepped up to the spot and slotted the ball into the net. The goal reignited Miami FC's hopes and infused renewed hope into the team. The comeback was very much on, as Miami put everything they had into fighting back.
Miami FC continued to mount relentless attacks, creating numerous scoring opportunities in their pursuit of an equalizer. Despite their best efforts, the Detroit defense held their lines and held off Miami's valiant efforts.
When the final whistle echoed through the stadium, Miami FC found themselves on the wrong side of a 2-1 score line.
Looking ahead, Miami FC faces an uphill battle next week with a pivotal home match against the league leaders, Pittsburgh Riverhounds SC. The road ahead may be challenging, but Miami FC remains in the hunt for a postseason spot.
With six matches left in the USL regular season for Miami, they must rise up to the test against some of the toughest opposition in the league. Fans are in for a treat as the season winds down, with plenty of excitement in store.