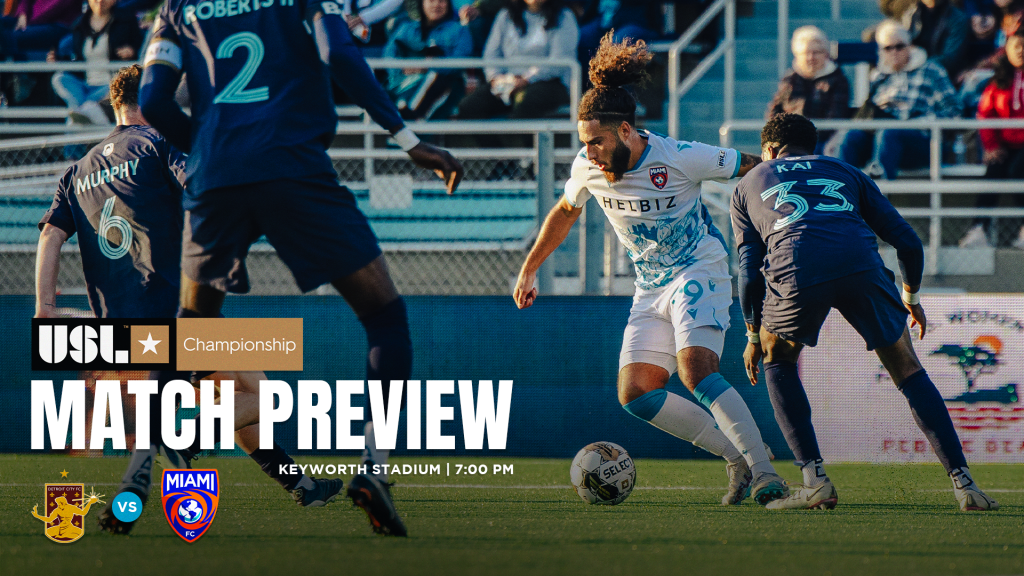 Miami, FL. (September 8th, 2023)
In a monumental matchup that could redefine their USL playoff ambitions, Miami FC is sharpening its blade for a fierce battle on the road with Detroit City FC. With the USL's final playoff spot tantalizingly within reach, Miami's mission is clear: win or risk falling short of postseason glory. The game will be broadcast on TV33 for local television viewers and available for streaming on CBSMiami.com, ESPN+, and YouTube.
As the regular season finale inches closer, the pressure is mounting on both sides. Miami currently finds themselves locked into a tense race for the coveted playoff berth with Detroit and Tulsa breathing down their neck.
With just 3 points currently separating Miami from the playoff picture, every pass or tackle in this match could potentially determine their fate. A win could help catapult them into playoff contention, while a loss might push their playoff dreams further out of reach.
For Miami, new faces will need to step up and deliver this weekend when it matters most. Three of their starters will be absent for the match: Craig, who is serving a red card suspension, and Telfer and Rivas, who are away on international duty. It will be intriguing to observe the team's response to their absences.
In the lead-up to this pivotal encounter, the Miami FC faithful have been rallying behind their team, understanding the significance of their support. The players will undoubtedly draw inspiration from their loyal fans, who are dreaming of playoff glory beginning with a win on Saturday.
The stage is set for an enthralling showdown between Miami FC and Detroit City FC. It's a battle where victory is imperative, and the stakes couldn't be higher. As both teams prepare to take the field, the USL playoff race hangs in the balance, and Miami FC knows that only a win will suffice if they are to keep their playoff dreams alive. Will they rise to the occasion and secure a crucial victory, or will Detroit City FC's fortress prove too formidable to breach? The answer will be revealed on match day, and fans of both teams can expect a thrilling contest that will have a lasting impact on the USL playoff landscape.