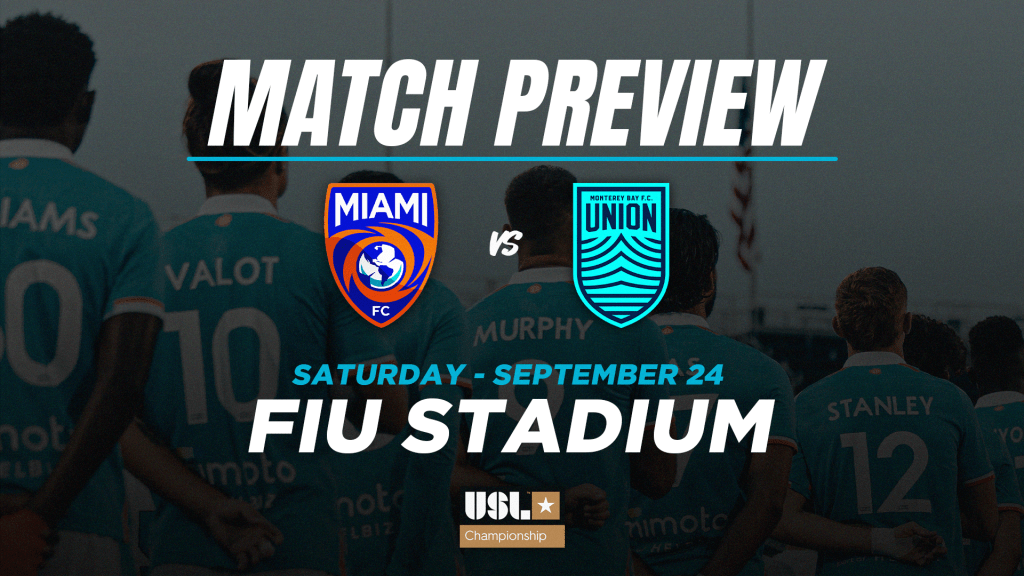 Vs. Monterey Bay FC at FIU Stadium
Saturday, Sept. 24
Kickoff: 7:06 p.m. ET
Watch: ESPN+ (USA), YouTube (International)
Tickets: Click Here
Miami, Fla. (September 23, 2022) – The Miami Football Club will take on Western Conference foe Monterey Bay FC at FIU Stadium Saturday night.
Miami FC looks to win the first-ever meeting against Monterey as it searches for better seeding in the Eastern Conference. On the other hand, the visitors hope to extend their four-game undefeated streak to earn a playoff spot in the Western Conference.
Frustrating 2-2 draw at home against Atlanta United 2
Neither side took a hold of the game in the opening 20 minutes. Miami had more possession, but it did not translate to offensive danger until just after the 20th-minute mark. The home side produced three clear chances of goal in Atlanta United 2's 18-yard- box in a span of seven minutes. However, 18-year-old goalkeeper Vicente Reyes blocked all-three attempts on goal.
Center-back Callum Chapman-Page pulled Miami ahead with a headed goal from open play as the clock turned to 45:00. Sorto sent a lobbed cross from the right flank, and Chapman collected his second goal of the year.
Atlanta United 2's Darwin Matheus equalized in the 57th minute. Nonetheless, Miami responded with its second go-ahead goal of the night.
Captain Paco Craig dribbled up the middle of the pitch and dished out a through ball to Murphy. The American striker took one touch and finessed the ball around the keeper with his second. The goal is Murphy's 10th of the season, and the assist is Craig's second in two games.
Unfortunately, Miami FC was subject to an own goal in the 81st minute of the game, and the contest ended 2-2. The Orange and Blue created three close chances in stoppage time, but the late efforts were not enough to retake the lead for the third time.
First-ever meeting vs. Monterey Bay FC
Monterey Bay FC was established 19 months ago. The club is a continuation of the USL Championship franchise club Fresno FC.
Monterey endured a rocky start to its inaugural USL Championship season, losing seven out of nine games to start the season. Opponents outscored the Union 25-9 in that stretch. Things changed after a 2-0 win against Louisville City FC at Lynn Family Stadium in late May. Head coach Frank Yallop's men became more competitive, winning more and losing by smaller margins.
Monterey Bay arrives at Miami in a hot four-game undefeated streak, outscoring opponents 12-4. Forward Christian Volesky and attacking midfielder Sam Gleadle are responsible for most of the scoring in the Union's current run. Gleadle scored four and dished out three assists, while Volesky notched four goals.
Miami FC signs Claudio Repetto from Phoenix Rising
Miami FC announced Wednesday the signing of forward Claudio Repetto from Phoenix Rising.
The 25-year-old arrives at Miami after making 20 appearances and eight starts this year. Repetto scored a goal against Las Vegas Lights and bagged another against San Antonio early in the season. Also, he dished out an assist to Kevon Lambert in Phoenix's 2-1 win against Miami FC in April.
The Genoa, Italy, native had a breakthrough season with Charleston Battery in 2021. Repetto led the team in scoring and was named the club's offensive player of the year and newcomer of the year by the supporters.
Pride Night
Celebrate Pride Night with DJ Citizen Jane and the 305 community on Saturday. Gates open at 6 p.m. ET.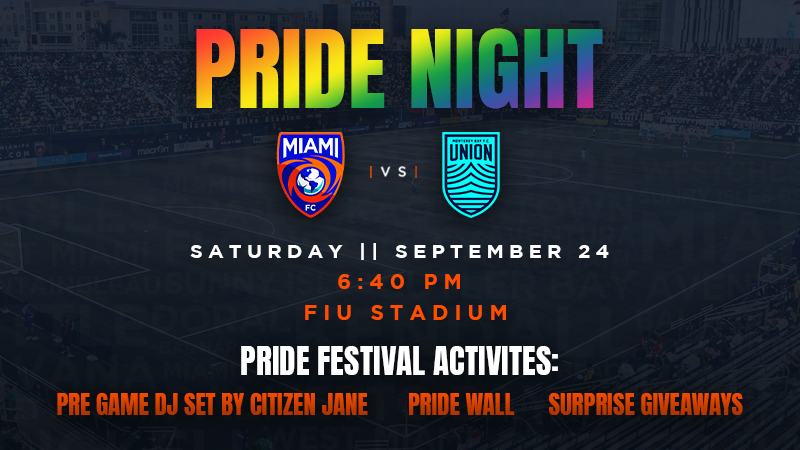 Pregame DJ set by Citizen Jane
Pride Wall
Surprise Giveaways
Halftime races on the pitch
Up Next for Miami FC
Miami FC closes a three-game home slate on Saturday, Oct. 1, against Memphis 901. The Orange and Blue will look to go 2-0 against the current No. 2 team in the Eastern Conference.
Miami FC hosts Western Conference foe Monterrey Bay at FIU Stadium on Saturday, Sept. 24. Purchase game tickets HERE.