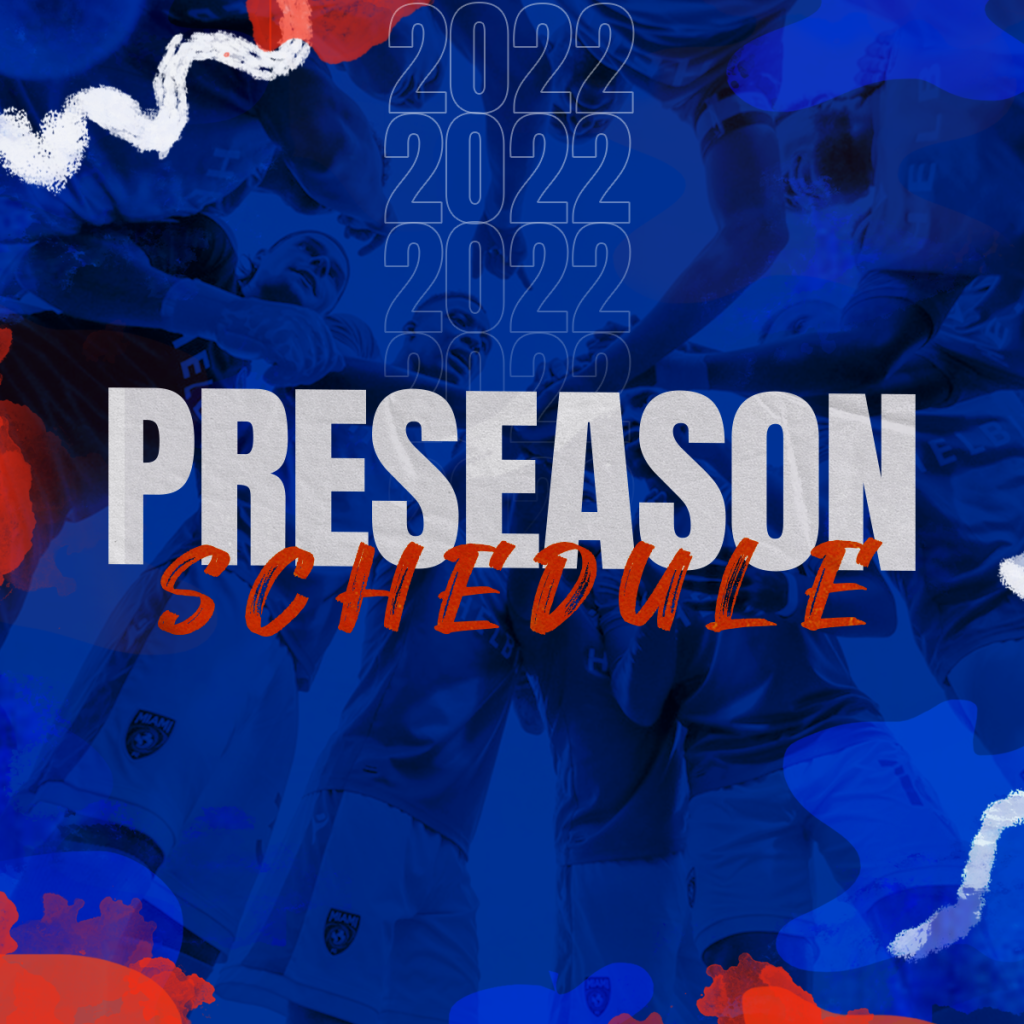 MIAMI (January 20, 2022) – The Miami FC announced their seven-game preseason schedule on Thursday, with the highlight being back-to-back games against Major League Soccer sides. Miami FC will face CF Montreal and Orlando City on Friday, Feb. 11, and Wednesday, Feb. 16, respectively.
"We're pleased with the schedule we have planned for preseason," commented Head Coach Anthony Pulis. "The games provide us with a good variety of opponents and I'm sure they'll all challenge us in different ways. It's a hugely important period for us to give clarity to the players on exactly how we want to play in all moments of the game. We want to build a really tight knit collective spirit amongst the group and of course get them really well conditioned physically so they're all fit and raring to go come March 12."
Miami's 2022 preseason kicks off on Saturday, Feb. 5, with an intrasquad scrimmage, giving new head coach Anthony Pulis a glimpse of his squad in action.
The club will then travel to Ft. Lauderdale to see-out CF Montreal on Friday, Feb. 11, at Inter Miami CF's Training Facility. The journey northward continues Wednesday, Feb. 16, when Miami visits the Orlando Health Training Facility to face Orlando City SC.
Action resumes Sunday, Feb. 20, when the club will face Orlando City B and Montverde Academy at Eastern Florida State College in Melbourne, Fla. On Saturday, Feb. 26, MFC will travel north to play Nova Southeastern University men's soccer team, and then continue to Inter Miami CF's Training Facility to play Fort Lauderdale CF on Sunday, Feb. 27.
Miami will conclude preseason games at home against the FIU men's soccer team on Saturday, March 5. Exactly a week later, they will host its USL Championship home-opening game against New York Red Bulls II.
2022 Preseason Schedule
Saturday, February 5th – Intrasquad game – FIU
Friday, February 11th – vs. CF Montreal – IMCF Training Facility
Wednesday, February 16th – vs. Orlando City – Orlando Health Training Facility
Sunday, February 20th – vs. Orland City B – Eastern Florida State College
Sunday, February 20th – vs. Monteverde Academy – Eastern Florida State College
Saturday, February 26th – vs. Nova Southeastern University – Nova Southeastern University
Sunday, February 27th – vs. Fort Lauderdale CF – IMFC Training Facility
Saturday, March 5th – vs. Florida International University – FIU
*All matches will be closed doors and dates and times are subject to change