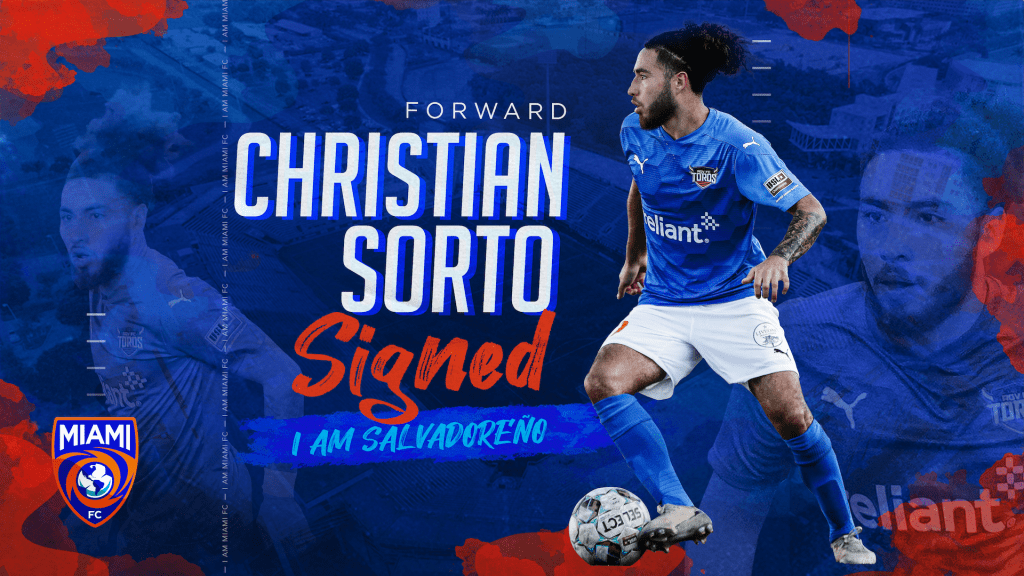 MIAMI (December 28, 2021) – The Miami FC announced on Tuesday the signing of winger Christian Sorto, pending league and federation approval. The El Salvador international joins Miami from RGV FC Toros to bolster Miami's already dangerous attack, giving Head Coach Anthony Pulis another promising attacking option ahead of the 2022 USL Championship season.
"Christian is a player that caught my eye at Loudoun United a few years ago," mention Pulis. "He's a player that gets you on the edge of your seat when he has the ball. He can play in any of the positions underneath the striker and has the ability to produce real moments of quality in and around the box. Christian is a young player that I believe has a very high ceiling. I'm excited to work with him and help develop him further."
Sorto is coming off his best season as a professional in the USA, scoring four goals and dishing out seven assists across 31 USL Championship games with Rio Grande Valley FC Toros.
The 21-year-old earned Team of the Week honors in Week 27 last season for picking up a pair of assists in a 2-0 victory against New Mexico United. The next week, he landed his name on the Team of the Week bench in Week 28 after scoring a goal and handing out an assist in a 3-1 win against Real Monarchs.
"I am thrilled to be joining an ambitious club like Miami FC," said Sorto. "I spoke to Anthony prior to signing and it was clear that this club has a winning mentality and I am eager to show fans that I want to be a part of that. I can't wait to arrive for preseason and get to work."
Like The Miami FC, El Salvador senior national team kept tabs on Sorto's breakthrough 2021 season. As a result, he was called up to two FIFA 2022 World Cup Qualifying matchdays and made his national team debut against Jamaica on Nov. 13, 2021. He played again just days later against Panama.
Before joining RGV FC Toros, Sorto notched two goals and three assists wearing Loudoun United's colors in his previous two USL Championship seasons. He will cross paths again with ex-Loudoun striker Kyle Murphy, who joined the Miami FC from Memphis 901 FC on Dec. 15, 2021.
Make sure you watch Christian Sorto and The Miami FC play next season by locking in your 2022 Season Tickets today. Visit MiamiFC.com or call 844-MIAMIFC to secure your fútbol305 membership for only $25!