Welcome Miami FC Faithful! Tonight we are hosting Atlanta Silverbacks FC at Bobcat Field, on the campus of St. Thomas University in Miami Gardens!
Following the Orange and Blue's victory over Jacksonville Armada FC in the Sunshine Conference Championship, Miami has earned the right to host the South Region Semifinal against the Silverbacks.
Highlights of the Night
You won't want to miss a minute of the action, so get to the stadium early to get food from the Joe Snow Ice Cream food truck!
For our 21 and over fans, you can visit the Beer Stand, which will be located right next to the food truck. You can get a 12 ounce imported beer or 16 ounce domestic beer for $6. Alcohol will be available until the 75th minute of the match!
Check out the One Goal Zone near the entrance where you can kick into mini goals, or test your skills in Cornhole and Jenga!
The Miami FC Foundation will be hosting an auction for a jersey signed by Miami FC 2's star goalkeeper Daniel Vega!
See the information below for everything you will need to know for #MIAvATL.
Coming to the Stadium | Parking and Transportation
St. Thomas University is located at 16401 NW 37th Avenue in Miami Gardens, just south of the Palmetto Expressway (highway 826) at the exit for NW 37th Avenue. Parking for all Miami FC 2 home matches at St. Thomas is FREE.
To avoid congestion, we urge fans to get to Bobcat Field as early as possible! Parking will be open and available starting at 5:00 p.m. Lot 1 can be accessed through the entrance on 37th Avenue (Douglas Road). After the main entrance gate, you will take the first right and then a left. The lot will be on the right side.
Take a look at the map below for a better understanding.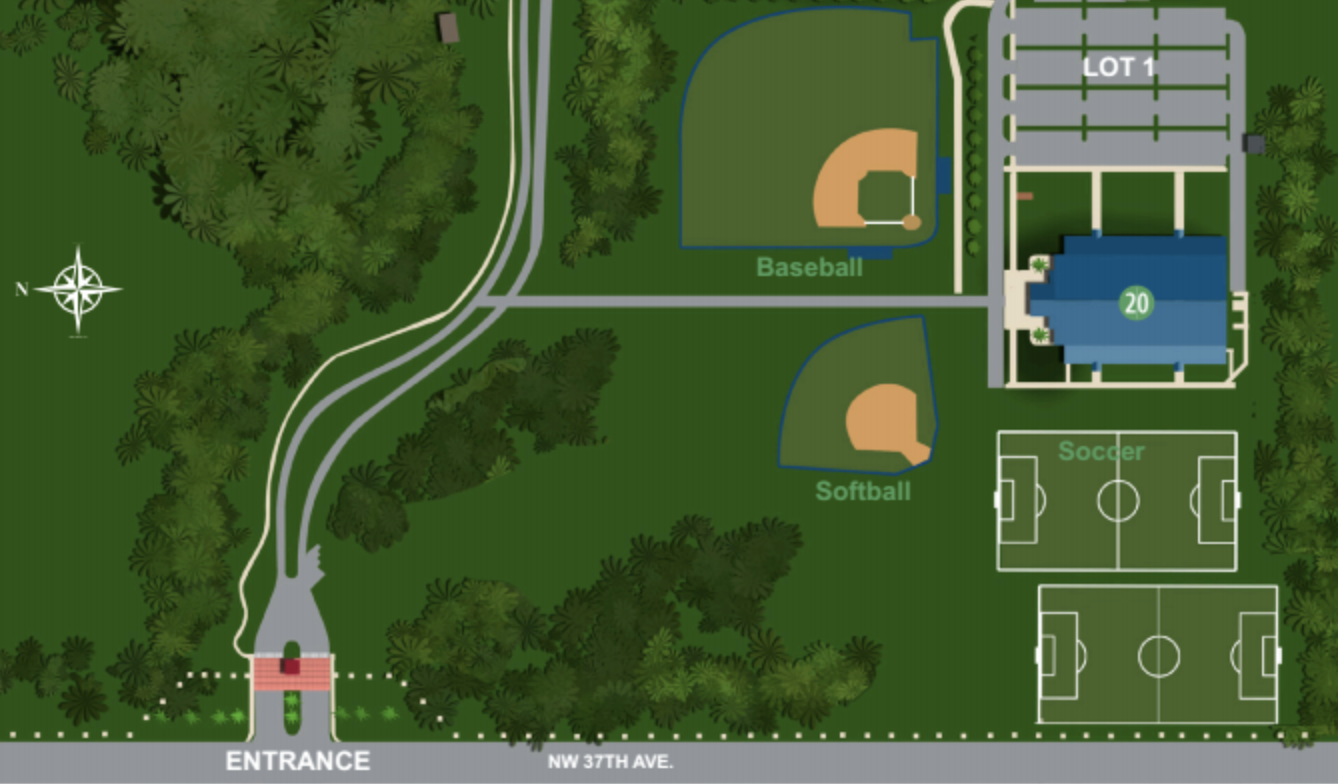 Leaving the Stadium | Parking and Transportation
There will be one exit after the match concludes.
Fans can leave through the Main Entrance, which leads to 37th Avenue (Douglas Road). From the parking lot, turning left will lead to the Main Entrance.
Getting Into Bobcat Field at St. Thomas University | Gates and Ticketing
Tickets are for the match are $15 for adults and kids 12 and under are free. Tickets can be purchased in advance at MiamiFC.com/tickets or at the ticket windows located at the Fernandez Family Center next to Bobcat Field. Season members can purchase tickets for $10.
Reserved Bleacher seating for the match is still available. For guests who have purchased Lawn GA tickets, we encourage them to bring small folding lawn chairs for comfort and in order to ensure an obstructed view of the field.
Tickets will be scanned at the tent located at the Main Entrance to Bobcat Field.
The Box Office and Will Call are located at the Fernandez Family Center, just before the Main Entrance to Bobcat Field.
Bags will be checked upon entry, and only small personal bags, purses and diaper bags will be allowed for entry.
No outside food or drink will be allowed.
In the event of a postponement due to weather, all tickets will be valid for the date of the rescheduled match.
Inside the Stadium | Match Entertainment
The One Goal Zone inside the Main Entrance to Bobcat Field will feature games and entertainment for all ages.
The National Anthem will be performed by Elisa Barbato.
Show off your soccer skills with the Miami FC mini goals in the One Goal Zone!
Guest Services and Safety
Safety and guest experience are our top priorities. No glass, weapons, projectiles, explosives or any other object that could be perceived by Miami FC 2 staff and security to be dangerous to others will not be permitted inside Bobcat Field.
If at any point you witness inappropriate behavior, language or conduct, please find the nearest Miami FC 2 or St. Thomas University representative for assistance.
Re-entry will be allowed for guests using the restrooms inside the Fernandez Center.
Umbrellas are not permitted inside Bobcat Field, but in the event of rain, ponchos will be available for sale at the Retail Kiosk.
In the event of lightning, heavy rain or extreme conditions that cause the match to be delayed at any point, guests will be directed inside the Fernandez Center until it is safe to return outside.
Remember where you parked and please remember to lock all valuables out of plain sight before leaving your vehicle.
The Play-By-Play
5:00 p.m. — Parking Lots Open
5:30 p.m. — Box Office, General Will Call and Media Will Call Opens
6:00 p.m. — Gates open for General Admission and Season Ticket Holders/Groups
7:00 p.m. — Kickoff for The Miami FC 2 vs. Atlanta Silverbacks FC
DO's
Arrive early!
Wear Miami FC gear!
Make noise!
Have a great time!
Show your love and support for your club and your city!
DON'T's
Bring any musical instruments or items that would not be allowed at the field.
Bring any items that can be considered projectiles or weapons to the field.
Use profanity or abusive language toward players, guests, and opposing fans.
Bother reppin' anything but YOUR MIAMI FC 2!
Accidentally drive to Riccardo Silva Stadium at FIU…Miami FC 2 will be playing its 2018 home NPSL matches at our Training Home…St. Thomas University!
If you have any questions prior to Saturday's match, call us at 844-MIAMIFC or email Info@miamifc.com.