First, it's not only our home opener…
IT'S YOUR HOME OPENER, IT IS YOUR TURN TO MAKE HISTORY MIAMI!!
Miami FC is coming off a tie vs the Strikers and ready to pick up the first win ever. The squad is working hard to gain 3 points at home in front of all of you against the Tampa Bay Rowdies tomorrow night.
Come out and support your club, be loud, lose your voice, find it again and BE LOUDER! We have all awaited this moment so let's #MakeHistoryMIA tomorrow night! You can now dress just like us too, we'll have our jerseys on sale at the stadium.
Plus, Maluma is joining us at our inaugural home opener too, performing pre-game and half time, you don't want to miss this memorable night.
Coming to the Stadium…Transportation and Parking
Remember that the Fair is in its final weekend, so if you are driving take some extra time to get to the stadium, parking will be limited.
We recommend carpooling, or:
Get to the game hassle-free: Take Uber for an affordable, reliable ride that arrives in just minutes.
Plus, if you share your ride on uberPOOL you can take $2 off your fare by entering the promo code MADDFL. For every POOL ride to or from the home opener, Miami FC will donate $2 to Mothers Against Drunk Driving.
Click here
for more information on our Uber Promotion!
If you prefer to drive, please take your time and reference the map below, we included some useful information that will make parking easier!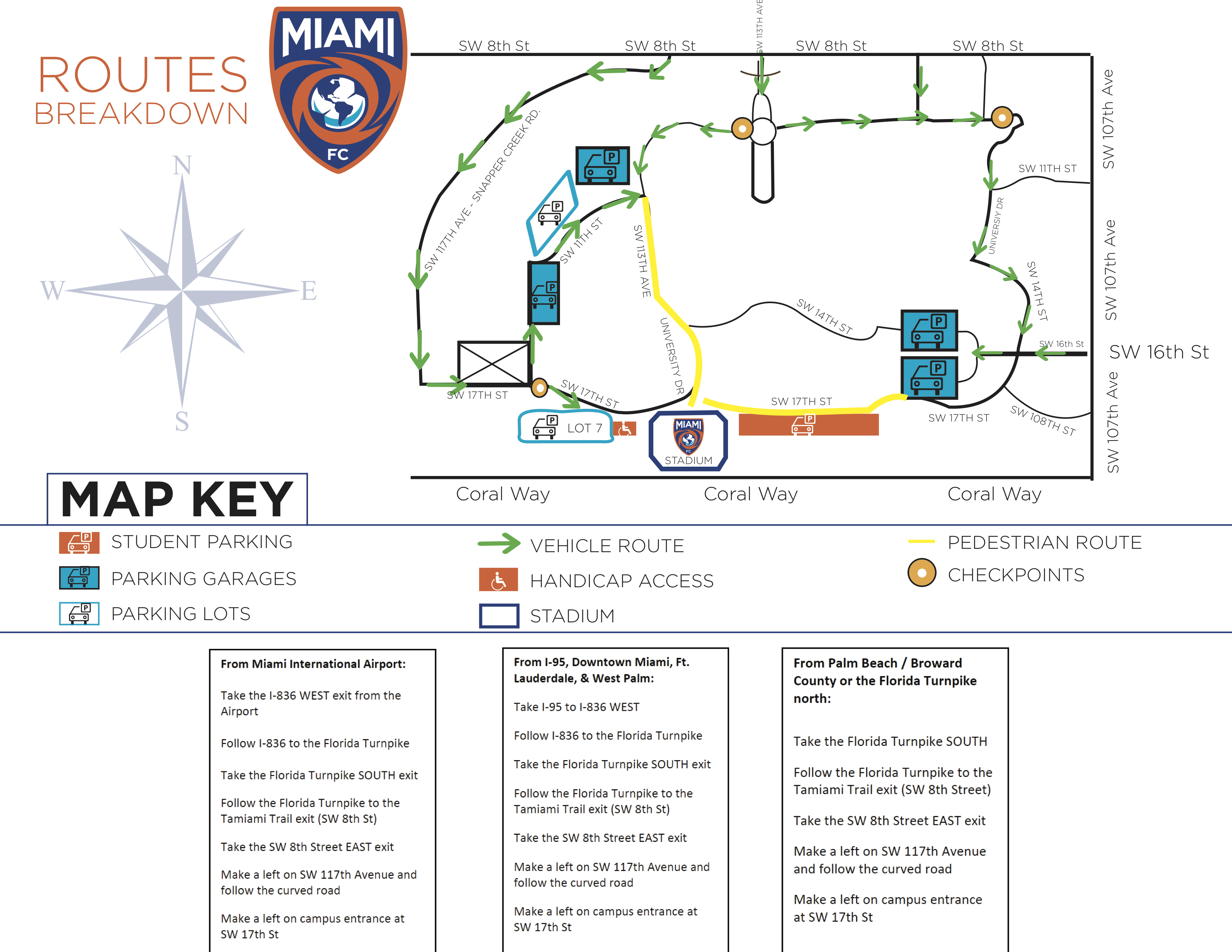 Here's a brief play-by-play of when everything is happening tomorrow
5:00 pm - Box Office Open, Parking Lots Open, Tailgating can begin
6:30pm - Gates Open (Gates 4-10 General Admission)
Pregame: Maluma Performs
Kickoff: 8:00 PM
Halftime: Maluma Performs
Second Half begins: 9:10 PM
Post match: See you at Fritz and Franz Bierhaus in Coral Gables
DOs for the game
Arrive Early!
Make noise!
Get Loud!
Have a great time!
Wear Miami FC colors! If you want a jersey they will be sold on site at the stadium!
Show your love and support for our city, our club, on the day of our first ever home opener!
DONTs for the game
Don't bring any musical instruments or items that would not be allowed in the stadium…unless you are joining The Dade Brigade! They will bring all their gear before gates.
Don't bring any items that can be considered projectiles into the stadium! Click here for more stadium policies
Oh, and please don't bring your cousin from Tampa!
Your Club, Your Voice!
#MakeHistoryMIA